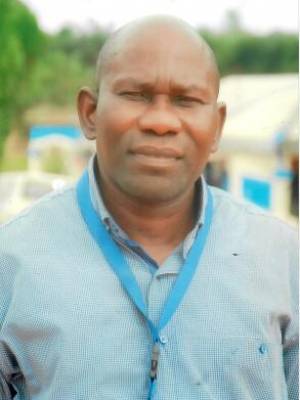 WELCOME MESSAGE FROM THE HEAD OF DEPARTMENT 
On behalf of members of staff of the Department, it is my great pleasure to welcome you to the Department of Agricultural Technology, Edo State Polytechnic, Usen.
VISION AND MISSION STATEMENT
The Department of Agricultural Technology seeks to be a world class Department, adequately equipped for training, research and academic excellence.
To produce practical oriented, self reliant and productive Agricultural Technology graduates in Nigeria.
PROGRAMME PHILOSOPHY
The philosophy that guides this programme is the production of skilled man power that is adequately trained and equipped with comprehensive knowledge required to be self reliant in different areas of Agriculture. Our students are trained in an atmosphere with the widest possible human and material resources through the adoption of effective techniques of instruction and exposure to actual practice of Agriculture. In line with the mission of Edo State Polytechnic, Usen for academic excellence, the Department of Agricultural Technology was created toprovidethe needed platform for the acquisition of National Diploma (ND) certificate through classroom instructions, research, laboratory Practical, Field work, Demonstration Farms and Students Industrial Work Experience Scheme (SIWES).
PROGRAMME OBJECTIVES
The objectives of the programme are to:-
Produce Agricultural Technology graduates with adequate practical knowledge and skill in different fields of Agriculture.
Provide linkage between research and end users of new Technology in Agriculture.
Prepare potential Agricultural Technology graduates for self employment in general Agriculture.
SCOPE OF THE PROGRAMME
The students in the Department of Agricultural Technology undertake Practical, Field Work, Projects, Workshops, Seminars Excursions and Intensive Courses in Crop Productions, Crop Protection and Pest Management, Crop Processing and storage, horticulture, Forestry and Wood Technology, Agro-climatology, Agricultural Statistics and Field Experimentation, Sheep, Goat and Swine production, Animal Nutrition, Poultry Production, Pasture and Range Management, Beef and Dairy Production, Breeding and Genetics, Basic Fishery Technology, Animal Health, Pedology and Soil Survey, Basic Soil Science, Soil Fertility and Crop Nutrition, Agricultural Economics and Farm Management, Agricultural Extension and Communication, Field operation and mechanization.
In addition to the core Agricultural Technology (AGT) courses mentioned above, students will also take approved non-core courses from Mechanical Engineering, Computer Science, Survey and Geo-informatics, Science Laboratory Technology, General Studies, Entrepreneur and Statistics Departments as requirement for their graduation.
ADMISSION REQUIREMENTS
Admission into the Department is through the UTME entrance examination. Candidate must possess at least five (5) O'level credits in WAEC/NECO or its equivalent examination in English Language, Mathematics, Agricultural Science/Biology and one of the following in not more than two sittings – Physics, Economics, Geography, Technical Drawing, Food and Nutrition, Animal husbandry/ Fisheries.
CAREER OPPORTUNITIES
Job prospect for Agricultural Technology graduates exist in private and public sector of the economy.
State and Federal Ministries of Agriculture.
Agricultural Research Institutes such as Nigerian Institute for Oil Palm Research (NIFOR), Cocoa Research Institute of Nigeria (CRIN), International Institute of Tropical Agriculture (IITA), National Institute for Horticultural Research and Training (NIHORT), Rubber Research Institute of Nigeria (RIN), National Root Crop Research Institute (NRCRI) among others.
Academic Institutions (Universities, Polytechnics, and Colleges of Education) as technicians, superintendents or technologist.
Agriculture and Agro-allied/export units of banks.
Commercial farms, Agro-chemical Industries and Agro-service centres.
Self- employed as consultant and large scale farmer in poultry production, fish production and processing, arable crops and plantation crops e.g oil palm, cocoa, cashew etc.